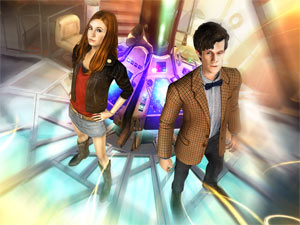 It was today announced that the Doctor Who Adventure Games series has been cancelled, with the remaining three games slated for the second run unlikely to be released.
In an official statement about their cancellation, executive producer Simon Harris said that the firm will instead put their focus on other Doctor Who game projects, including the upcoming platform release The Eternity Clock.
"Right now there are no current plans to develop any more Adventure Games. Obviously we've got the browser-based MMO Doctor Who: Worlds In Time, and we have other plans for other platforms and formats and we'll be announcing those, but right now The Adventure Games have done a great job, and they've been done, we're now going to move forward with the The Eternity Clock and we'll continue to develop those plans as we go ahead."
Five Adventure Games have currently been released, with a further three expected, though it remains to be seen whether or not they will now ever see the light of day.
What do you think about this news? Have your say below. And for even more news and updates, check out
The Doctor In The TARDIS Forum