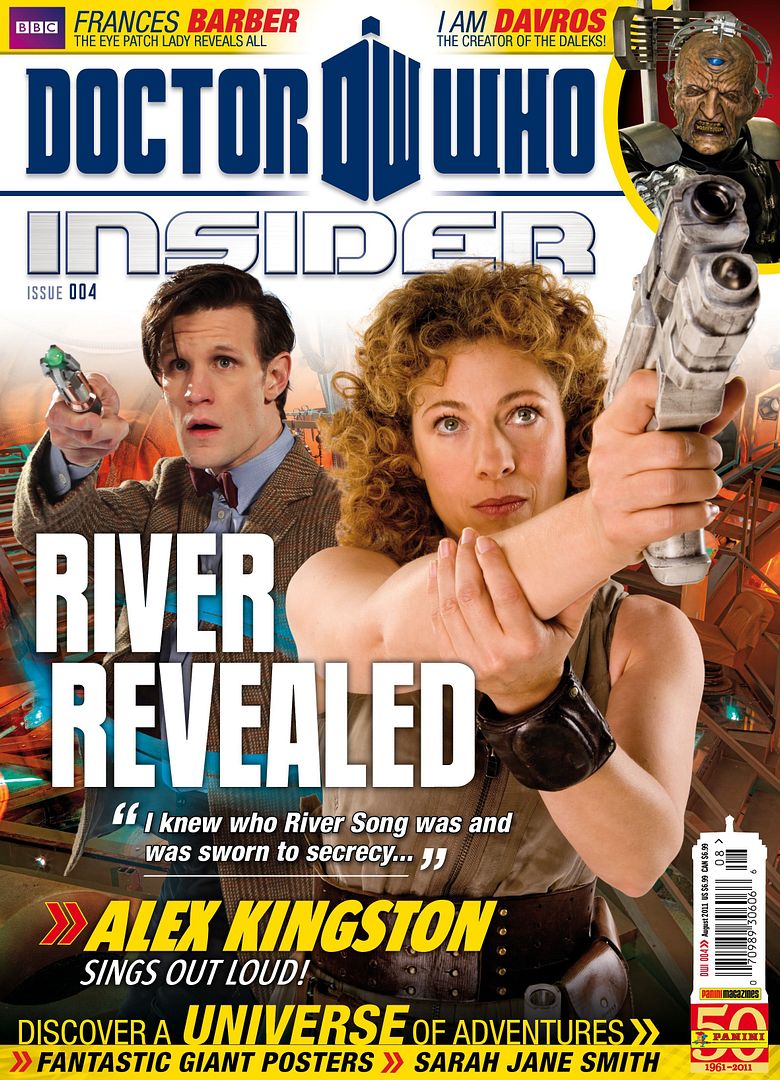 On July 7th 2011, issue #4 of Doctor Who insider will become available in the US and UK. The main focus of the latest issue is a full spread and feature with Alex Kingston who plays River Song, but also featured is:
OF HATCHES AND PATCHES: Frances Barber talks exclusively to Doctor Who Insider about playing wicked Eye Patch Lady, Madame Kovarian and tells us why baddies are best.
SARAH JANE SMITH: To mark the recent loss of Elisabeth Sladen, we take a look at the amazing life and times of the character she created: Sarah Jane Smith.
I WAS… STRAX: Actor Dan Starkey has played three separate Sontarans in Doctor Who and he talks exclusively to Insider about what it's like to be inside the suit and body of a clone warrior.
NEXUS POINT: We look back at the moment that the Doctor's arch enemy, the Master, came out of hiding.
DATA FILE: The First Doctor and his companions are trapped in a nightmarish world of deadly toys, games and nursery rhymes when the Celestial Toymaker lures them to his realm.
TIME SCOOP: Ensnared in this issue's Time Scoop is Davros, the crippled, evil genius who created the Daleks.
MERCHANDISE: Previews of the latest Doctor Who merchandise, including The Awakening and The Gunfighters on DVD; we speak to stars of the 1996 Doctor Who TV movie, Daphne Ashbrook and Yee Jee Tso about their new roles as UNIT officers in the Tales from the Vault audio drama; and authors James Goss and Steve Tribe tell us all about their new Dalek Handbook and we print an exclusive 'missing chapter' from this essential tome.
STORE INSIDER: A round‐up of some of the latest Doctor Who merchandise, including a new range of mugs and some very dapper Doctor Who clothing.
FAN ZONE: A selection of photographs sent in by readers of themselves with well known Who celebrities and their own costumes, props and art inspired by Doctor Who.
And as if that wasn't enough, you can also bag yourself a giant, double‐sided poster of River Song and The Celestial Toymaker!