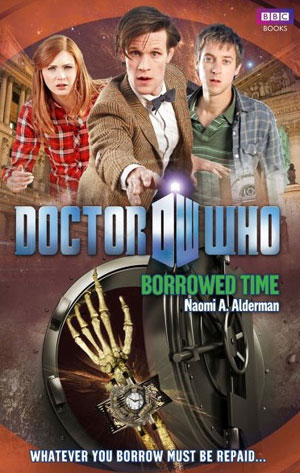 Borrowed Time
by Naomi Alderman
'You want more time Mr Brown, of course you do. We all want more time. Let me make you an offer…'

Andrew Brown never has enough time. No time to call his sister, or to prepare for that important presentation at the bank where he works.

The train's late, the lift jams. If only he'd had just a little more time. And time is the business of Mr Symington and Mr Blenkinsop.

They'll lend him some – at a very reasonable rate of interest.

Detecting a problem, the Doctor, Amy and Rory go undercover at the bank. But they have to move fast to stop Symington and Blenkinsop before they cash in their investments.
Touched by an Angel
by Jonathan Morris
'The past is like a foreign country. Nice to visit, but you really wouldn't want to live there.'

In 2003, Rebecca Whitaker died in a road accident. Her husband Mark is still grieving. He receives a battered envelope, posted eight years ago, containing a set of instructions with a simple message: "You can save her."

As Mark is given the chance to save Rebecca, it's up to the Doctor, Amy and Rory to save the whole world. Because this time the Weeping Angels are using history itself as a weapon.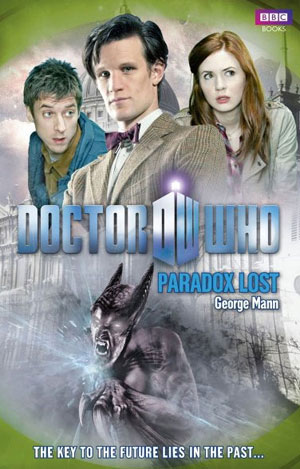 Paradox Lost
by George Mann
'The Squall feed on psychic energy. They spread like a plague and if they are not stopped they will strip the Earth clean…'

London 1910: an unsuspecting thief finds himself confronted by grey-skinned creatures that are waiting to devour his mind.

London 3189: the remains of an ancient android are dredged from the Thames.

When reactivated it has a warning that can only be delivered to a man named 'the Doctor'.

The Doctor and his friends must solve a mystery that has spanned over a thousand years. If they fail, the deadly alien Squall will devour the world.
These all new adventures feature the Doctor, Amy and Rory, as played by Matt Smith, Karen Gillan and Arthur Darvill in the BBC series.
Published by BBC Books, these books are all available in hardback as from today. You can find them at all good book shops.