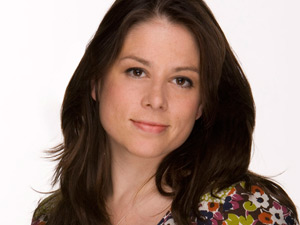 The BBC have announced today that Beth Willis, one of the Executive Producers of Doctor Who, is leaving BBC Wales, so will therefore no longer be working on the show.
In a
statement
on the official Doctor Who site they said:
It's been confirmed that Doctor Who Executive Producer Beth Willis is leaving BBC Wales.
Beth commented, 'Working with Steven Moffat, Piers Wenger and Matt Smith on the last two series of Doctor Who has been the most fantastic experience and I will miss them hugely... The plans taking shape for the next series of Doctor Who and for the 50th Anniversary are beyond exciting - and with Steven Moffat at the helm, this incredibly special time for the show is in very safe hands."
Beth joined Doctor Who in 2009, shortly after producing the first two series of the iconic drama, Ashes to Ashes. She was onboard for the beginning of the Eleventh Doctor's era and her contribution was noted by Ben Stevenson, BBC's Drama Controller, who said, 'Much of its [Doctor Who's] current success is down to her vision and ambition for the show. She has been an inspiring and instrumental force and I know will be much missed by all of us, and especially Matt Smith and Steven Moffat.'
During her years with BBC Wales, Beth also co-exec produced the hugely popular series of, Doctor Who Confidential and the BAFTA-winning Eric and Ernie.
Lead Writer and Executive Producer, Steven Moffat, commented, 'We couldn't keep her forever, though God knows I tried. She is off to be brave and brilliant in brand new ways, and the sad news for Doctor Who is that it will be somewhere else.'
Beth will be returning to Kudos Film & Television and everyone on the Doctor Who team wishes her the very best of luck for the future.
This news, of course, follows closely on the heels of the announcement that Piers Wenger would also be leaving for pastures new, & I have no doubt that this will cause all manner of speculation in some quarters. However, we here would like to thank Beth for all that she has done for the show & wish her all the best in her future endeavours.
The search will now be on for new Executive Producers for the show.