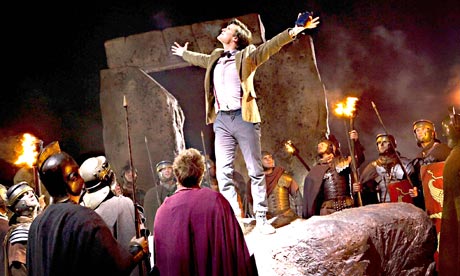 The 2011 Hugo Awards have been announced and it was another good night for Doctor Who.
The award for Best Dramatic Presentation, Short Form was taken by the series 5 finale - 'The Pandorica Opens'/'The Big Bang,' written by Steven Moffat and directed by Toby Haynes.
The win continues writer Steven Moffat's success at the Hugo Awards. He has previously won the same award for 'The Empty Child'/'The Doctor Dances,' 'The Girl in the Fireplace' and 'Blink.'
Last year's award also went to Doctor Who as 'The Waters of Mars' clinched victory.
This latest win means that the show has taken the award almost every year since 2006, the only exception being 2009.
There was also a Doctor Who themed win in the Best Related Work category as the award went to the book 'Chicks Dig Time Lords: A Celebration of Doctor Who by the Women Who Love It' edited by Lynne M Thomas & Tara O'Shea.
You can see a full list of Hugo Award 2011 winners
HERE