The latest classis release from 2entertain comes in the form of the Cyberman Boxset. The Two Disc Set features a story from Fourth Doctor Tom Baker 'Revenge of the Cybermen', and the Seventh Doctor story 'Silver Nemesis'. A synopsis and list of Bonus Features for each story are listed below.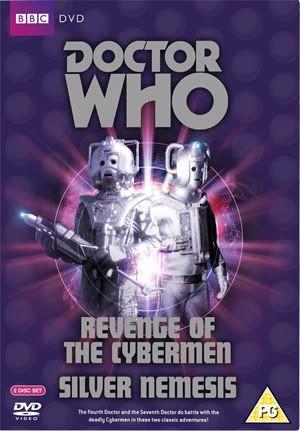 Revenge Of The Cybermen -
Returning from Skaro by means of the Time Ring, the Doctor, Harry and Sarah find themselves back on Space Station Nerva but millennia earlier, where a lethal infection is spreading through the crew.
• Commentary with Elisabeth Sladen, David Collings and Philip Hinchcliffe.
• The Tin Man and the Witch - a look back at the making of the story, with director Michael E. Briant, incoming producer Philip Hinchcliffe and outgoing producer Barry Letts.
• Location Report - New Doctor Tom Baker is interviewed by BBC News on location at Wookey Hole during the location shoot for the story.
• Cheques, Lies and Videotape - in the days before official VHS and DVD releases, Doctor Who fans had no option but to swap and trade episodes with other fans, often for extortionate sums of money.
• Photo Gallery
Silver Nemesis -
The Doctor and Ace visit England in 1988, where three rival factions - the Cybermen, a group of Nazis and a 17th century sorceress named Lady Peinforte - are attempting to gain control of a statue made of a living metal, validium, that was created by Rassilon as the ultimate defence for Gallifrey.
• Commentary with Sylvester McCoy, Sophie Aldred, Chris Clough and Andrew Cartmel.
• Industrial Action - cast and crew look back at the making of this story. With actors Sylvester McCoy, Sophie Aldred and Gerard Murphy, director Chris Clough, writer Kevin Clarke, script editor Andrew Cartmel, stunt arranger Nick Gillard and musician Courtney Pine.
• Deleted and Extended Scenes.
• Trails and Continuity - BBC1 trails and continuity announcements from the story's original transmission.
• Photo Gallery
The set will be available from 9th August 2010 with an RRP of £29.99