Ok, we know a lot of this information was released on Friday, but we want to keep you all in the loop nonetheless, and we didnt exist on Friday so without the use of the Tardis and causing a paradox, we couldnt go back to inform you.
So anyways, the BBC have confirmed the full lineup of Whoniverse baddies for this year's Doctor Who Live tour, and it promises to be quite the spectacle.
Everybody's favourites(!) the Daleks will be making their presence felt, as will the Cybermen, Weeping Angels, Judoon, Silurian, Smilers, Clockwork Robots, Winders, Scarecrows, Vampires and of course, the Ood.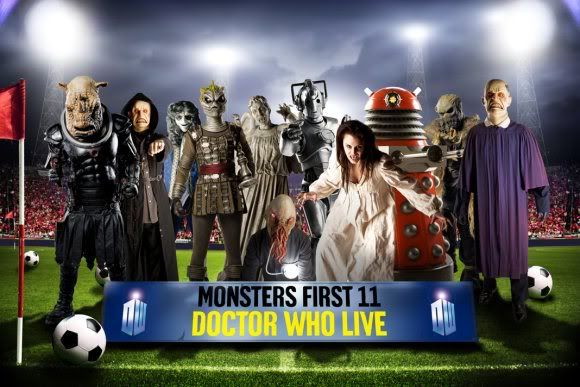 The show is going to be set in wartime Britain and will climax with an on-stage battle. Doctor Who stars Matt Smith and Karen Gillan have filmed special inserts as their respective characters that will appear throughout the show on the video screens.
The show will apparantly feature pyrotechnics, optical illusions and special effects alongside clips of the show and the newly-filmed sequences, which will all be accompanied by composer Murray Gold's score played live by a 16-piece orchestra.
The full tour dates are as follows:
•October 8-10 - London, Wembley Arena
•October 12-13 - Sheffield, Arena
•October 14-17 - Glasgow SECC
•October 18-20 - Birmingham, NIA
•October 22-24 - Manchester, MEN Arena
•October 25-26 - Nottingham, Trent FM Arena
•October 28-31 - Cardiff, International Arena
•November 2-3 - Liverpool, Echo Arena
•November 6-7 - Belfast, Odyssey Arena
We will be attneding the Manchester event, and we want to know if anyone else is attending, and at which venue. We would also like you to write a review of your experience and of the show, and we will put the best ones onto the site.