You may remember that last week we told you that the Series 5 box set will include two specially filmed scenes as extras, titled Meanwhile In The TARDIS..., and we can now reveal what the scenes will be about.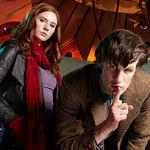 The two inserts, written by Steven Moffat will star Matt Smith & Karen Gillan as the Doctor and Amy. The first will slot neatly between The Eleventh Hour and The Beast Below and will explain why Amy was floating in Space above the Starship UK at the beginning of the episode.
The second scene will fit in after Flesh and Stone and before The Vampires Of Venice and will explain what happened in the TARDIS after Amy throws herself at the Doctor and tries to kiss him.
The Boxset will be available on November 8th in the UK and 9th in the US.