*Update* Cover art is now available.
For the first time ever on DVD, the classic 80's serial featuring the Seventh Doctor and Mel will be available to buy from September. For those unfamiliar with the story:
The Rani has taken control of the planet Lakertya and forced the peaceful Lakertyans to build a rocket silo-cum laboratory base into a cliff face. She is aided by the Tetraps, a race of bat-like creatures, and plans to fire a rocket loaded with loyhargil, a substance with the same properties as strange matter, at an asteroid completely composed of the latter.

As a preliminary to this she has created a huge artificial brain and kidnapped a number of geniuses – Including Pasteur and Einstein from Earth - to imbue it with the ability first to identify and then to calculate the correct way to create loyhargil for her in the laboratory. The newly-regenerated Doctor and Mel must stop her and save the planet…
The cover isnt available yet, so here is a picture of Mel to make things all better.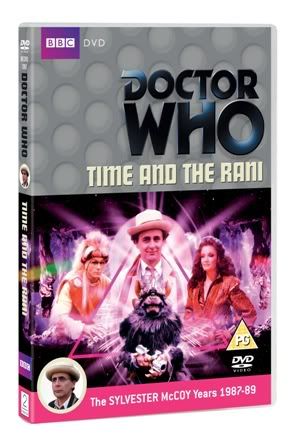 Available from September 13th, Time and the Rani has an RRP of £19.99 but you can pre order it from the BBC from £13.99. Special features include:
• 4 x 25 mins approx colour episodes with mono audio.
• Commentary - stereo. With actors Sylvester McCoy and Bonnie Langford, writers Pip and Jane Baker.
• The Last Chance Saloon– by 1987, senior executives at the BBC were on the point of killing-off Doctor Who in the face of stiff fan opposition. Instead, they decided to give the show one last chance… With actors Sylvester McCoy and Kate O'Mara, producer John Nathan-Turner, director Andrew Morgan, script editor Andrew Cartmel, writers Pip and Jane Baker, BBC Head of Series & Serials Jonathan Powell and graphic designer Oliver Elmes. Written by Nev Fountain and narrated by Richard Heffer.
• 7D FX – a look behind-the-scenes at the creation of the story's impressive visual effects. With visual effects designer Colin Mapson, visual effects assistant Mike Tucker and video effects designer Dave Chapman.
• Helter-Skelter– Graphic designer Oliver Elmes and animator Gareth Edwards talk about how they created the first CGI title sequence in Doctor Who's history.
• Lakertya – writers Pip and Jane Baker talk about their original vision for the lush forest planet Lakertya and director Andrew Morgan explains why he ended up shooting it in a desolate quarry instead…
• Hot Gossip – Kate O'Mara recalls the fun of working with gossiping friends. With Sylvester McCoy and Andrew Morgan.
• On Location– BBC Breakfast Time's reporter Guy Michelmore visits the production during location filming for the story's exterior scenes and talks to John Nathan-Turner, Sylvester McCoy, Bonnie Langford and Kate O'Mara.
• Blue Peter – Janet Ellis welcomes newly appointed Doctor Who Sylvester McCoy to the Blue Peter studio.
• Photo Gallery - production, design and publicity photos from the story.