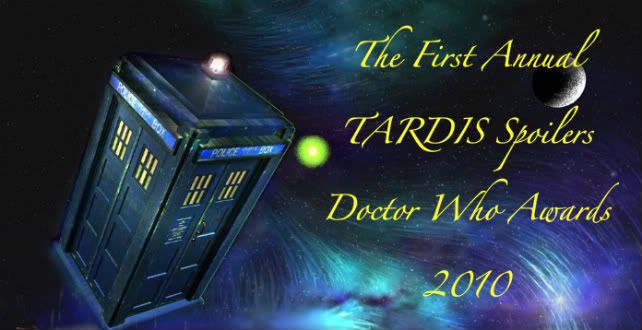 Ok, I have never done anything like this before so it could all go belly up, but lets give it a try. On September 15th 2010 we will be holding The First Annual TARDIS Spoilers Doctor Who Awards. Great title huh? Of course if this doesnt work it could well be the last one too.
There are 11 basic catagories to vote in. Some sections have been split into sections between New Series and Classic Series as some people felt that the new series was at an unfair advantage.
The catagories are:
Best Doctor (New)
Best Doctor (Classic)
Best Companion (New)
Best Companion (Classic)
Best Story (New)
Best Story (Classic)
Best Guest/Recurring Character
Best Villain
Best Spinoff
Best Audio Story
Best Book (Fiction/Non Ficton)
Whenever we hold polls or discussions you always come forward to take part and join in, so with a bit of luck this should get a good few responses. Voting will close on September 13th and you can vote by either emailing your choices to
thedoctorinthetardis@hotmail.co.uk
or by DMing your choices to me via Twitter. Don't waste time, get those votes in now.