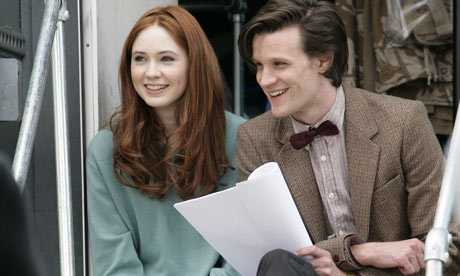 BBC America have announced their schedule for this year's San Diego Comic Con & there's some good news for any Doctor Who fans who may be going - Matt Smith & Karen Gillan will be appearing at the event for the first time on Sunday 24th July.
Matt & Karen will be joining writer Toby Whithouse & executive producers Beth Willis & Piers Wenger for a panel & Q&A session in Hall H between 12.30 & 1.30 on that day. They will also be taking some exclusive footage from the second half of Series 6 with them.
Alongside the appearances of the stars, there will some Comic Con exclusive (at least for the time being) merchandise on sale at the event, including:
This detailed River Song figure & Pandorica Chair as seen in the Series 5 finale 'The Pandorica Opens'/'The Big Bang.' It will be available from both the Underground Toys booth & the BBC America booth for $30 (no news on whether this will get a general release).
And this bobble-head based on a TARDIS design from the classic series which has been produced by Entertainment Earth. Eagle eyed fans may have already spotted this on the
Forbidden Planet
website though as it will be available on general release from November.
So, anyone off to SDCC this year? If so, it looks like you're in for a treat.