Well that's it guys, the poll is closed, the votes have been counted and we can now reveal the outcome of 24 hours worth of voting about how you feel about the Dalek redesign.
Earlier this week int our
Dalek Debate
article, we detailed the strong fan reaction to the new look colourful Daleks that debuted in series 5. We followed that up with our poll to find out what you all thought about them, and here is how you voted.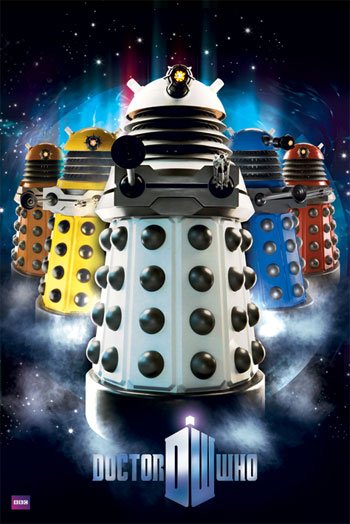 YES, THEY LOOK GREAT
- A massive 38% of you voted to say that you loved the new look Daleks, with coments on Twitter mainly highlighting the new colour scheme and size which seemed quite 'threatening'.
NO, THEY LOOK AWFUL
- 30% of voters say they hated the new design, with many calling for the old look Daleks to make a comeback. Criticisms ranged from saying the Daleks looked like overweight iPods, to them being a marketing ploy to make money.
THEY ARE OK I GUESS
- 21% of you are indifferent to the new designs. It seems for some, the Daleks of any design are a welcome addition to the show.
And finally...
THEY ARE STILL GROWING ON ME
- A small percentage of you, 9% to be exact, say that the Daleks are still growing on you and are pretty much undecided.
So there we have it. Despite the overwhelming negativity that the Daleks faced when we saw then in Victory of the Daleks, it seems that the tides are turning and the majority of you now like the new design. Who saw that one coming? We certainly didnt.