At The Doctor In The TARDIS we know you are all Doctor Who crazy, so for those of you who like to collect any merchandise available, you will be pleased to know that you can now get a mega boxset of all 11 Doctors in one massive Tardis boxset.
The Doctor Who Eleven Doctors Set includes each and every one of the Doctors as a 5-inch collectable figure, and will be available from the end of July.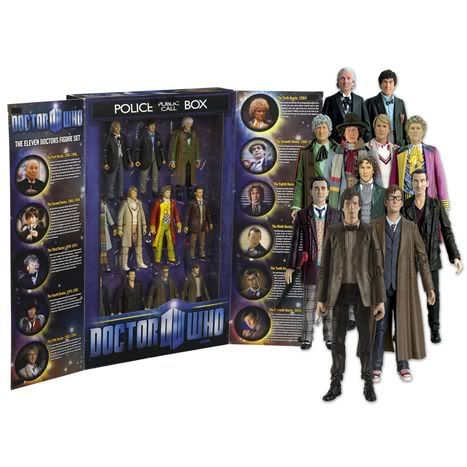 As part of the set you will get:
The First Doctor played by William Hartnell (1963-1966). He comes complete with his ubiquitous with spiralled cane.
The Second Doctor Patrick Troughton (1966-1969) in his bow tie holding his voice recorder.
The Third Doctor Jon Pertwee (1970-1974) is holding the sonic screwdriver that becomes his most trusted tool.
The Fourth Doctor Tom Baker (1974-1981) comes clutching his essential sonic screwdriver.
The Fifth Doctor Peter Davison (1982-1984), this doctor with his famous stick of celery on his lapel.
The Sixth Doctor Colin Baker (1984-1986) is the colourful Doctor and he comes complete with his larger sonic lance.
The Seventh Doctor Sylvester McCoy (1987-1996) has a never before seen newly sculpted head and is depicted carrying his umbrella accessory.
The Eighth Doctor Paul McGann (1996) is an entirely new figure in the range. The humanity loving eighth Doctor has been produced exclusively for this set.
The Ninth Doctor Christopher Eccleston (2005) is featured holding the sonic screwdriver.
The Tenth Doctor David Tennant (2005-2009) is a new variant of other recently figures produced and depicts the Doctor wearing a long coat, red trainers and glasses.
The Eleventh Doctor Matt Smith (2010-) is shown wearing his now famous brown jacket and bow tie and holding the new improved sonic screwdriver.
Prices vary depending on where you purchase, but it could all be yours from around £49.99.