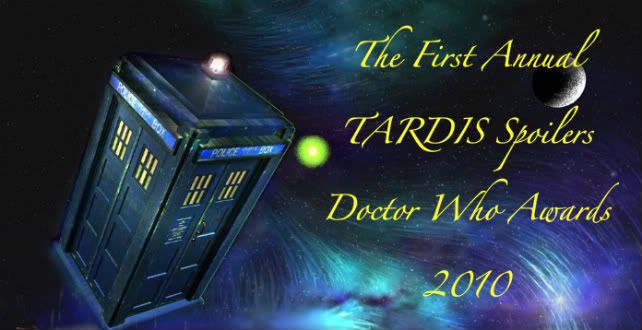 I cant believe just how many emails and DMs that have been received so far with all of your nominations, so firstly, a massive thank you to everyone who has taken part so far. We still want loads more though, so please keep those nominations coming.
What we are doing?
On September 15th 2010 we will be holding The First Annual TARDIS Spoilers Doctor Who Awards. This is mainly just for fun, but it is great to get all the readers involved, and because the winners of each catagory will be chosen and voted for by you, it is your chance to make your winners shine. Who needs a BAFTA, when you have one of our awards?
The Awards
There are 11 basic catagories to vote in. Some of these have been split into sections between New Series and Classic Series as some people felt that the new series was at an unfair advantage and it gives the chance for people who are specifically Old/New fans to have their say and get the results they want.
The catagories are:
Best Doctor (New)
Best Doctor (Classic)
Best Companion (New)
Best Companion (Classic)
Best Story (New)
Best Story (Classic)
Best Guest/Recurring Character
Best Villain
Best Spinoff
Best Audio Story
Best Book (Fiction/Non Ficton)
Whenever we hold polls or discussions you always come forward to take part and join in, so with a bit of luck this should get a good few responses. Voting will close on September 13th and you can vote by either emailing your choices to
thedoctorinthetardis@hotmail.co.uk
or by DMing your choices to me via Twitter. Don't waste time, get those votes in now.