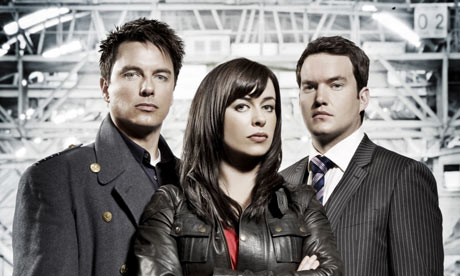 The
BBC Press Office
has announced that from Monday July 11th to Wednesday July 13th three Torchwood audio dramas will be aired on Radio 4 at 2.15pm. Each drama will be approximately 45 minutes long.
Set before the events of 'Children of Earth', the dramas will see John Barrowman, Eve Myles & Gareth David-Lloyd reprise their roles as Jack, Gwen & Ianto.
They have also provided the following information about the three dramas:
In the first of three Torchwood stories, when Rhys's elderly Uncle Bryn has a heart attack while listening to the shipping forecast, it seems like another routine death at Ivyday Nursing Home. Until Gwen's suspicions are roused by another elderly resident ...
In Tuesday's story, a distress signal lures Jack, Gwen and Ianto to the deepest part of the ocean – the Mariana Trench – and they find themselves trapped with a hungry alien.
In Wednesday's Torchwood, it's the last night at the House Of The Dead, the most haunted pub in Wales, and Mrs Wintergreen is holding a seance. Then the ghosts start arriving, and all hell breaks loose.
The three stories have been given the umbrella title of Torchwood: The Lost Files.